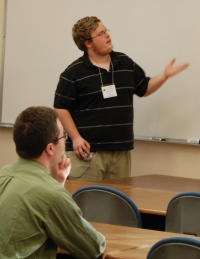 Every spring the Maryland-District of Columbia-Virginia Section of the MAA holds its annual Undergraduate Student Conference, featuring student paper and poster sessions, as well as a Jeopardy competition and the Radical Dash, an Amazing Race style game but radically different.
If you have done an undergraduate research project or an expository project in mathematics, give a contributed paper presentation or a poster at the conference. Contributed paper talks are 20 minutes each so your talk should be 15 minutes long to allow 5 minutes for questions.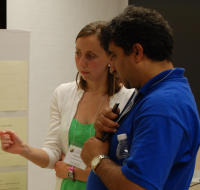 Posters should be freestanding two-dimensional displays such as tri-fold cardboard. Posters will be placed on tables so additional objects like small pendulums, mathematical games, artwork, laptops running on battery power, etc. may be used to augment the two-dimensional display. Prizes will be awarded for the best paper presentations and the best posters.
The Jeopardy competition is a lot of fun. You will be competing against students from other colleges and universities in our section in a mathematical quiz presented in a Jeopardy format. View the Jeopardy rules.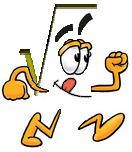 The Radical Dash: Have you seen the Amazing Race? Teams travel all over the world in a multi-leg competition and attempt both physical and mental challenges that help them proceed on to the next leg of the competition. The Race is all about thinking creatively with limited resources and trying to get something done as quickly and correctly as possible. We won't be sending you anywhere off the campus, but we will challenge your creativity in a mathematical way during this competition. The competition will be done in such a way so that you can still attend the Jeopardy competition, the poster session and talks. There will be four stations at which each team will be given a choice of challenges, once solved successfully the team will be given a clue that will get them to the next station. Each station will have point values assigned to the challenge and for some, time will be a factor. The team that finishes with the most points wins. The teams will finish at the prize session and winners will be announced at the end.
If you have any questions or suggestions concerning the student conference, please contact the Student Activities Coordinator Lisa Schneider at lmschneider@salisbury.edu. We look forward to seeing you there!
Here is a list of past student award winners.