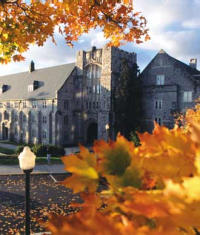 The fall meeting of the MD/DC/VA Section of the MAA was held on October 19 and 20 at Virginia Tech in Blacksburg, VA.
Dr. Bonita Saunders, treasurer of the VA/MD/DC Section, gave the banquet address on Friday night with her talk entitled Effective 3D Visualizations for the NIST Digital Library of Mathematical Functions Project.
On Saturday, Dr. Dan Kalman of American University discussed Polynomial Equations and Circulant Matrices and Dr. Larry Washington of Maryland spoke on Diophantus and Fermat.
We also had a special session for graduate student papers which was a special session for expository papers given by graduate students and the MD-DC-VA Section Project NExT had several activities for Section NExT fellows including a social event for Project NExT Fellows and graduate students on Friday night.
Invited Addresses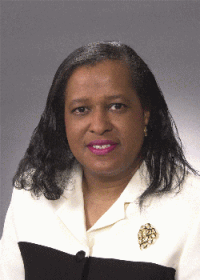 Bonita V. Saunders
National Institute of Standards and Technology
Banquet Address: Effective 3D Visualizations for the NIST Digital Library of Mathematical Functions Project
Abstract: The NIST Digital Library of Mathematical Functions (DLMF) Project aims to create a Web-based resource that will deepen the understanding of high-level functions arising in mathematics and physical sciences. Key features of the library will be 3D graphics, and interactive visualization capabilities. This talk looks at progress in developing effective visualization of high-level functions. Techniques to handle functions whose computational domains are irregular, discontinuous, or multi-connected because of branch cuts, poles or other singularities will be discussed. Examples of such functions are: Airy functions that provide closed form solutions to field equations of quantum mechanics, optics and electromagnetism; Gamma and beta functions that provide the starting point for the computation of more complex functions such as the Riemann zeta function; Other functions that occur in number theory, probability theory and mathematical physics.
Biographical Sketch: Bonita V. Saunders is a research mathematician in the Mathematical and Computational Sciences Division at the National Institute of Standards and Technology (NIST) in Gaithersburg, Maryland. She is an active member of the MD-DC-VA Section and currently holds the office of treasurer. She received her Ph.D. in mathematics from Old Dominion University, M.S. in mathematics from the University of Virginia and B.A. in mathematics from the College of William and Mary. Her areas of research include numerical grid generation, the numerical solution of partial differential equations and the visualization of special functions. Currently, she is managing the design and development of graphics and visualization for the NIST Digital Library of Mathematical Functions (DLMF) Project, an effort to update and expand the National Bureau of Standards Handbook of Mathematical Functions and disseminate it on the Web as a digital library.
During Bonita's eleven-year tenure at NIST she has presented several lectures on her research throughout the United States and in several foreign countries. She was honored by the National Association of Mathematicians at the Joint Mathematics Meetings in New Orleans, where she presented the 2001 Claytor Lecture in memory of W.W. Schieffelin Claytor, the third African American to earn a Ph.D. in mathematics, and the first to publish mathematics outside his thesis. An essay on Bonita is printed in the MAA publication "101 Careers in Mathematics" edited by Andrew Sterrett.
---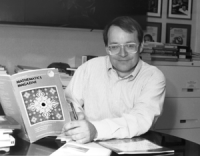 Dan Kalman
American University
Invited Address: Polynomial Equations and Circulant Matrices
Abstract: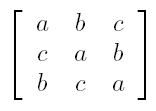 This talk presents a unified derivation of the solutions to quadratic, cubic and quartic equations, using special properties of circulant matrices. These are square matrices of the form with each row a cyclic permutation of the preceding row. There is a simple closed form expression for the eigenvalues of a circulant matrix, and that leads to a novel approach to finding the roots of a polynomial p: construct a circulant matrix C having p for the characteristic polynomial, and generate the eigenvalues of C. In the case of the cubic, this approach provides an alternate route to the solution of Cardano. For the quartic equation, the solution obtained with circulants is different from the original solution of Ferrari, and may be a new solution. On the other hand, there are other classes of matrices that can be used in place of circulants to solve quartics. One of these reproduces Euler's solution of the quartic, and a second is very similar to Descartes' solution.
Biographical Sketch: Dan Kalman joined the mathematics faculty at American University in 1993, following an eight year stint in the aerospace industry and earlier teaching positions in Wisconsin and South Dakota. He has an undergraduate degree from Harvey Mudd College, and PhD from the University of Wisconsin, Madison.
Dan has been involved with the MAA in a variety of capacities. Within our section he was Program Chair 1998 - 2000, and is currently the webpage editor. On the national level, he served two terms as Associate Editor of Mathematics Magazine, one as Associate Executive Director of the MAA, and for several years wrote the newsletter distributed by the national office to the participants in the Departmental Liaisons program. He is currently on the editorial boards of Focus and the Spectrum book series, and one of the Directors of MAA's Project WELCOME (see http://www.maa.org/news/project_welcome.html).
A regular contributor to the MAA journals and Math Horizons, Dan has won three MAA writing awards. He has given several invited addresses at regional and national MAA meetings, and is the author of one book, Elementary Mathematical Models, published by the MAA in 1997.
---
Larry Washington
University of Maryland
Invited Address: Diophantus and Fermat
Abstract: Can you find a right triangle with integer sides such that the hypotenuse and the sum of the legs are perfect squares? Fermat solved this in 1643. The smallest answer involves 13-digit numbers. How did he find them? The talk will start with Diophantus and show how his ideas led to Fermat's work, and beyond. Along the way, several historical issues will arise. For example, what happened in 1453, and why is it relevant?
Biographical Sketch: Larry Washington has been teaching at the University of Maryland, College Park, since 1977. He was an undergraduate at Johns Hopkins and received his PhD from Princeton. Before coming to Maryland, he spent three years as a postdoc at Stanford.
Larry has worked with local high schools and has mentored several talented high school students in the Maryland area, seven of whom became finalists in the Westinghouse/Intel competition. He has also been involved with several high school math competitions.
Larry's research is mainly in number theory. He is the author of Introduction to Cyclotomic Fields (Springer-Verlag 1982, 1997) and Introduction to Cryptography with Coding Theory (with Wade Trappe; Prentice Hall, October 2001).