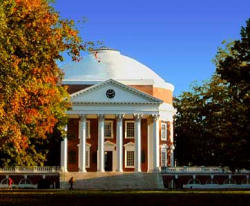 On April 1-2, 2005 the University of Virginia hosted the Spring 2005 MD-DC-VA Regional Meeting of the MAA.
On Friday afternoon from 4-6 PM, James Tanton conducted a workshop activity titled, "Accessible - but surprisingly sophisticated - Math Activities for Students, Clubs, and Research."

Workshop Abstract: How can meanderings through the floor plan of a house prove Brouwer's Fixed Point Theorem? How can gnomes playing deadly hat games help with the study of error-correcting codes? How can braiding one's hair lead to concepts in abstract algebra and invariant theory? How can playing with weird "triangular number arithmetic" lead to Euler's Theorem in graph theory, summation formulae, more invariant theory, and new questions in these classic studies? Why does the long division algorithm one learns in fifth grade work and what does it tell us about base one-and-a-half? How is this linked to the famous "3n+1" conjecture? Is it possible to prove Napoleon's theorem by tiling your bathroom floor?

James Tanton also gave the banquet address on Friday evening. His talk was titled, "A Dozen Proofs that 1 = 2: A Misguided Review of all of Mathematics."
On Saturday, the innvited addresses were by Harrison Straley of Wheaton College and Adrian Rice of Randolph-Macon College. Their talks are respectively titled, "Isaac Newton" and "'Everybody makes errors': A 19th-Century Mathematical Attempt to Prove the Existence of God".
Also on Saturday, local artist Judith Townsend of Advance Mills, Virginia, exhibited her paintings on the theme, "Painting at the Intersection of Mysticism and Science".
Following Saturday's prize session there was a WeBWork workshop.

WebWork Workshop Abstract: WeBWorK is a web-based system for checking homework. The system, developed at the University of Rochester, can evaluate a variety of answers and provides students with instant feedback. WeBWorK exercises include randomly generated numerical parameters, so that each student received a custom version of the assigned problems. The WeBWorK system is free for use at academic institutions. This workshop will be hands-on in a computer lab. We will begin with an introduction to the WeBWorK system. Participants will then have the opportunity to work with the system, both as a student and an instructor.
Invited Addresses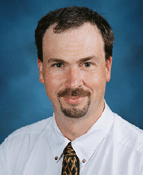 James Tanton
St. Mark's School
Invited Address: A Dozen Proofs that 1 = 2: A Misguided Review of all of Mathematics
Abstract: Guidobaldo del Monte (1545 - 1647), a patron and friend of the great Galileo Galilei, believed he had witnessed the creation of something out of nothing when he established mathematically that zero equals one. He thereby thought that he had proven the existence of God! Although I daren't be so bold with my claims, I am willing to prove instead that one equals two. Any moreover, just to convince you that I am right, I will do so twelve times over by drawing on a wide range of mathematical techniques - algebra and arithmetic, probability theory, calculus, mechanics, propositional logic, and more. Will you be able to find fault with any of my "proofs?"
Biographical Sketch: At first glance it is difficult to determine what James Tanton has done/is doing with his academic career. After obtaining his Ph.D. from Princeton in 1994 Tanton followed the usual track of Visiting/Assistant/Associate Professor at three different institutions (New College of the University of South Florida, St. Mary's College of Maryland, and Merrimack College) but was soon lured away by the joys of interacting with, teaching, being taught by, and publishing research articles with, younger students, K - 12, at the Boston-based Math Circle. During those three years Tanton also worked as a consultant for various teacher-training programs and college and secondary text-book editors, all under the pretext that he actually knew something about the state of secondary-level mathematics education. He didn't. But Tanton eventually decided to try practicing what he preached by heading into the secondary scene directly himself. He worked at Milton Academy for a short stint and now finds himself to be a regular high-school teacher at St. Mark's School in Southborough, Massachusetts. He has never worked harder in any aspect of his mathematical career than he is working now - and he is still in a state of shock over what he is really learning, for the first time, about life as a high-school math teacher. (Better be careful about what you preach!) Just to keep sanity completely out of reach, Tanton is also founding a new Institute of Mathematics at St. Mark's School, to do interesting things that can be best read about on the web (http://www.stmarksschool.org).
---
Harrison Straley
Quantitative Analysis Associate, Wheaton College
Invited Address: Isaac Newton
Abstract: Isaac Newton appears in period costume to discuss his life and his conflicts. This 45 minute dramatic lecture accompanied by Power Point slides is the result of on-site research by the authors, Harrison and Charlene Straley. This lecture is motivated by their desire to stimulate interest in mathematics and science through drama and mathematics/science history.
Biographical Sketch: Harrison W. "Chuck" Straley is Quantitative Analysis Associate at Wheaton College where he teaches statistics, mathematics and mathematics education courses and assists in the direction of the on campus quantitative tutoring center. He is in his 44th year of teaching, having taught most grade levels from kindergarten to graduate school, and having taught in both the United States and Australia. Dr. Straley received his undergraduate education at the University of Richmond, his masters at Emory University and his doctorate at The University of Virginia. He did post-doctoral work as a Woodrow Wilson Fellow at Princeton University and in 1989 President George Bush honored him at The White House for his teaching excellence. In addition to his duties at Wheaton College he also serves in the summers as Associate Director of the United States Mathematics Olympiad Summer Program. His research interests include discovery teaching, mathematics curriculum, and mathematics history. Dr. Straley is a former professional tennis player and holds two national titles one in Australia and one in the United States. He and his wife Dr. Charlene B. Straley have seven children, three of whom are in the family business, education. They also have nine grand children and one great grand child due in the spring. Their hobbies include tennis, mystery novels, gardening, RV camping and travel.
---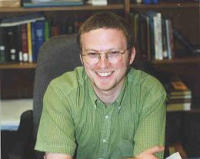 Adrian Rice
Randolph-Macon College
Invited Address: "Everybody makes errors": A 19th-Century Mathematical Attempt to Prove the Existence of God
Abstract: Most mathematicians are familiar with the name of the 19th-century British mathematician Augustus De Morgan (1806-1871). Best remembered today for "De Morgan's Laws," which arose from his work on formal logic, De Morgan was one of the few mathematicians of his time to realize the importance of logic to mathematics, and vice versa. But while his 'mathematization' of logic has been well documented by historians of mathematics, the use of a specific branch of mathematics in his logic, namely probability theory, has gone virtually unnoticed.
De Morgan was the first British mathematician to understand the groundbreaking, but largely incomprehensible, probabilistic work of the brilliant French applied mathematician Pierre-Simon Laplace. In an attempt to convey the importance and utility of probability to his fellow countrymen, De Morgan used Laplace's mathematical techniques and astronomical data to try to answer one of the most profound questions of all time: whether there is, or ever was, a divine creator.
That this attempt was ultimately unsuccessful is perhaps not surprising. What is intriguing (and not a little ironic, given De Morgan's expertise as a logician) is the occurrence of an elementary but fundamental logical error in De Morgan's probabilistic reasoning. This talk examines the mathematical and historical details of De Morgan's mistake.
Biographical Sketch: Adrian Rice received a B.Sc. with first class honors in mathematics from University College London in 1992 and an M.Sc. in the history and philosophy of science and mathematics from King's College London one year later. In 1997 he was awarded a Ph.D. in the history of mathematics by Middlesex University for a dissertation on Augustus De Morgan and the development of university-level mathematics in nineteenth-century London. He came to America in 1998 to serve as a Visiting Assistant Professor of Mathematics at the University of Virginia, co-editing a book with Karen Hunger Parshall entitled Mathematics Unbound: The Evolution of an International Mathematical Research Community, 1800-1945, which was published by the AMS in 2002. Since 1999, he has been an Assistant Professor of Mathematics at Randolph-Macon College in Ashland, Virginia, where his research focuses on nineteenth- and early twentieth-century British mathematics. He has served as a council member of both the British and Canadian Societies for the History of Mathematics and has recently been appointed book reviews editor of Historia Mathematica. He is currently writing a history of the London Mathematical Society.
---
Judith K. Townsend
Advance Mills, Virginia
Theme: Painting at the Intersection of Mysticism and Science
Description of Artwork: The themes expressed in my paintings are a reflection of my lifelong fascination with the elegance of pure mathematics and the mysteries explored through scientific inquiry. That the universe can have structure and order, and at the same time be evolving through chaos and entropy, inspires my imagination. Human history is marked by the attempt to understand and impose order on the mystery and chaos of the universe, to reveal a structure and regularity to this apparent chaos. This conflict between chaos and control, movement and stasis, creates dramatic tension. Nothing in the universe remains unchanged while we go about studying and analyzing it.
The grid, which is integral to many of my paintings, represents this sometimes frustrating search for truth. A grid can serve as an obstacle to perception or a window through which reality is revealed. There are layers of meaning to be found in every search for truth, some things are obscured from our understanding, some meanings change and deepen with knowledge. With this knowledge comes an awareness that there is much we still don't know. The answers don't inspire me as much as the exploration.
It has been stated that "painting makes the invisible visible." I would extend that to include the invisible, the possible and that of which we dream. Through painting I explore the mystery and magic of this journey without attempting to dispel any of it.
Biographical Sketch: Judith Townsend's artistic life began with original contemporary quilted wall hangings. Feeling limited by the time involved in creating quilts by hand, she explored other media and found watercolor especially suited to the ideas she wanted to express.
The paintings can be described as structured abstracts which are inspired by discoveries in science, the elegance of pure mathematics, and the rhythms of nature. She often employs a grid which can be perceived as an obstacle to clear vision or a window through which reality is revealed. In the grid structure can be seen the watercolor paintings' evolution from quilts.
Originally from New England, Judith has lived in Advance Mills, Virginia since 1984. She has worked in the field of alternative energy, taught elementary school in a three-room school in Vermont and served as executive director of the Charlottesville-Albemarle Clean Community Commission.
She is an active member of Art Upstairs Gallery and the Central Virginia Watercolor Guild, and also exhibits work at Sage Moon Gallery in Charlottesville. She works out of her studio in Advance Mills.