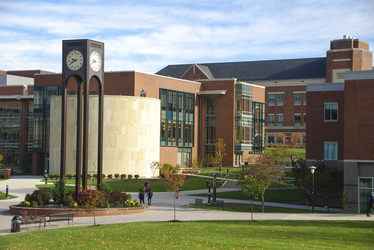 The Spring 2017 Meeting of the MD-DC-VA section of the MAA was held at Frostburg State University on April 28-29, 2017.

The Friday afternoon workshop, How to use as much inquiry as you're comfortable with in your calculus class, was given by Cassie Williams, Amy Ksir, and Mitch Keller. Laura Taalman gave the Friday evening banquest address, FAIL: A Mathematician's Apology. The Saturday morning address, A Voyager from the Fourth Dimension was given by Paul Humke of St. Olaf and Washington & Lee. The Saturday afternoon address, Frosting Fairness, Finally! was given by Alissa Crans of Loyola Marymount University.
---
Cassie Williams
James Madison University
Amy Ksir
United States Naval Academy
Mitch Keller
Washington and Lee University

Friday workshop: How to use as much inquiry as you're comfortable with in your calculus class
Abstract: Using inquiry in the mathematics classroom has gained popularity in recent years, and has been persistently supported by education research. Across the United States, the amount of inquiry being used in calculus courses varies widely, from occasional activities to fully IBL courses. Wherever you currently are on this spectrum, this workshop is designed to help you successfully move up a notch, and incorporate an amount of inquiry that you are comfortable with. In this workshop, we will discuss a variety of ways to effectively include inquiry in any calculus class. Whether you're looking to include occasional activities, regular tasks, or change your entire course structure, we have ideas (and materials) for you!
Cassie Williams: Once a junior high school math teacher, Cassie Williams joined the Department of Mathematics and Statistics at James Madison University in 2012 after earning her PhD in Mathematics from Colorado State University. She now uses inquiry in various ways at all levels of her teaching, including in her flipped calculus classes and upper division courses for majors. Her favorite research topics include both number theory and the effect of classroom structure on student learning. In her spare time, she likes to run, read, knit, and snuggle her cats.
Amy Ksir is a professor of mathematics at the United States Naval Academy, where she has been since 2003. She has used inquiry-based learning in undergraduate algebra and analysis courses, introduction to proofs, Calculus 2 and 3, and precalculus. Her research is in algebraic geometry, with current obsessions that include Berkovich curves and arithmetic dynamics. In her spare time she enjoys singing rounds with her spouse and two children, and playing folk rock on the accordion.
Mitch Keller is Assistant Professor of Mathematics at Washington and Lee University in Lexington, Virginia. He has been at W&L since 2013, following doctoral studies at Georgia Tech and postdoctoral positions at the London School of Economics and the University of Nebraska-Lincoln. Without realizing that's what he was doing, Mitch began incorporating inquiry into his courses in graduate school and now uses inquiry across the curriculum from flipped calculus courses to intense, four-week introduction to proof courses to major-level courses. His research interests include the combinatorics of partially ordered sets and online algorithms, and he became the second Managing Director of the Mathematics Genealogy Project in 2010. When not busy with mathematical matters, Mitch enjoys traveling the world, photography, and baking.
---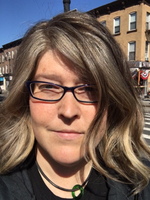 Laura Taalman
James Madison University
Banquet Address: FAIL: A Mathematician's Apology
Abstract: The job of being a math professor primarily consists of long periods of failure punctuated by short bursts of success which later seem to be somewhat obvious. But that's what we love about it. In this banquet talk we'll take a journey through many failures and try to laugh about it the best we can.
Biographical Sketch: Laura Taalman is a Professor of Mathematics at James Madison University whose research has included algebraic geometry, knot theory, and games. Dr. Taalman also publishes Calculus textbooks and Sudoku puzzle books, blogs at Hacktastic and Shapeways, and designs and shares hundreds of models with the 3D printing community, where she is known as "mathgrrl". She consults for 3D printing companies as an "expert amateur", a completely real thing which here means "a person who is good at doing things that they aren't particularly good at." Dr. Taalman is a Project NExT Fellow, a recipient of the Alder Award, Trevor Evans Award, and SCHEV Outstanding Faculty Award, and has been featured on Thingiverse, Adafruit, and Science Friday.
---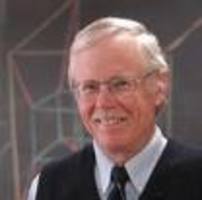 Paul Humke
St. Olaf and Washington & Lee
Saturday Morning Address: A Voyager from the Fourth Dimension
Abstract: When speaking about The Fourth Dimension I'm invariably asked
How do you know this is what the 4th dimension really looks like?
My answer is
I know because my students and I used the computer to make a four dimensional world and then used the monitor as a window to view it.
There is nothing magical or new in what we did (it is only elementary linear algebra), but there
is
a bit of magic in what you'll see.
Biographical Sketch: Paul Humke joined the St. Olaf College mathematics faculty in 1980 after a stint of nine years at Western Illinois University. He served as the North American Director of the Budapest Semesters in Mathematics program for nearly 25 years and continued as CEO and president of the parent corporation, Pro Mathematica Arte until last July. An active real analyst, he is editor-in-chief of the research journal Real Analysis Exchange and has published extensively on classical real analysis, set theory, measure theory, and dynamical systems, as well as articles on curricular topics ranging from calculus reform to the Budapest Semesters in Mathematics program. Humke was named a Distinguished Alumnus of the University of Wisconsin-Milwaukee in 2005 and in 2010 was presented the Hungarian Officers Cross, the highest level of Hungarian knighthood offered to non-Hungarians. Currently he is the Glynn Family Visiting Professor of Mathematics at Washington and Lee University.
---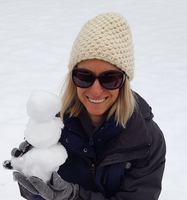 Alissa Crans
Loyola Marymount University
Saturday Afternoon Address: Frosting Fairness, Finally!
Abstract: Many of us are familiar with how to slice a cake ensuring equal sized slices for all. But what about those of us who want an equal amount of frosting as well?! This question is a classic with the problem solvers amongst us. In 1975, Martin Gardner considered a square cake cut into 7 pieces in his Scientific American column. More than a decade earlier, H.S.M. Coxeter posed the problem for a square cake sliced into 9 pieces as an exercise in his book, Introduction to Geometry. Together, we will solve this problem for a square cake cut into 5 pieces, and investigate the other cake shapes for which the same procedure will produce slices with equal cake and frosting.
Biographical Sketch: Alissa S. Crans has been recognized nationally for her enthusiastic ability to share and communicate mathematics, having been honored by the MAA with the Hasse Prize and Alder Award. Her research lies in the field of higher-dimensional algebra and is currently supported by a Simons Foundation Collaboration Grant. Alissa is known for her active mentoring of women and underrepresented students, as well as of junior faculty as a member of the MAA Project NExT leadership team. When not enticing students with the beauty of mathematics at Loyola Marymount University or sharing her enthusiasm for math in settings ranging from "Nerd Night Los Angeles" to public school classrooms, you can find her rehearsing with the Santa Monica College Wind Ensemble or on her quest to find the spiciest salsa in LA.