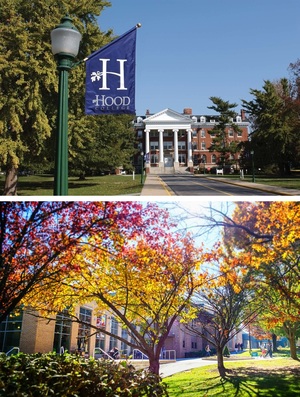 The Spring 2019 Meeting of the MD-DC-VA section of the MAA was held at Hood College and Frederick Community College on April 12-13, 2019.

On Friday, Amy Shell-Gellasch of Eastern Michigan University ran the workshop, Smithsonian Learning Lab: A Hands-on Workshop, and Brian Lins of Hampden-Sydney College gave the banquet address, e in a Box of Cereal. Surprising Places to Find Exponentials and Logarithms in Everyday Life.

The Saturday morning address, Splendor in the Graphs, was given by Jennifer Beineke of Western New England University, and the Saturday afternoon address, Seeing the (Game) Trees for the Forest, was given by Brant Jones of James Madison University.
---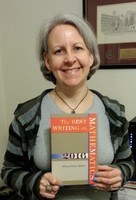 Amy Shell-Gellasch
Eastern Michigan University
Friday workshop: Smithsonian Learning Lab: A Hands-on Workshop
Abstract: The Smithsonian Learning Lab is an online resource platform for educators. Launched in 2016, the Learning Lab is ideal for object based learning in and outside of class. College educators have used this platform in all courses of study. Choose from over two million images and resources at the Smithsonian or import materials from other sources. Create a collection of items and resources for your course that students then access in class or at home for discussion or assignments. Students can also create their own collections for assignments or portfolios. In this workshop you will be introduced to different ways to use the Learning Lab and get started creating your own collections. NOTE: Attendees will need to bring a laptop with Internet access.
Biographical Sketch: Amy Shell-Gellasch received her Doctorate in Mathematics from the University of Illinois at Chicago in 2000. Since a three-year post-doctorate fellowship at the United States Military Academy at West Point, she has taught college mathematics in six states and two countries while following her active-duty military spouse around the world until his retirement in 2017. Her research is in the history of mathematics and she has published scholarly articles and books in this field. From 2013-2017 she conducted research at the Smithsonian National museum of American history and contributed to their web-based resources. Currently Dr. Shell-Gellasch produces content material for the Smithsonian Learning lab, is the Chair of the HOM SIGMAA, and teaches mathematics at Eastern Michigan University.
---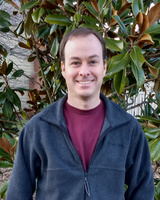 Brian Lins
Hampden-Sydney College
Banquet Address: e in a Box of Cereal. Surprising Places to Find Exponentials and Logarithms in Everyday Life.
Abstract: From boxes of cereal and folding laundry, to catching tax fraud and the United States House of Representatives, we will explore some interesting and surprising places where exponential and logarithmic functions turn up. Along the way, we'll discuss some of the history and applications of these functions, and even get a glimpse of some very deep mathematical ideas.
Biographical Sketch: Brian Lins is an associate professor of mathematics at Hampden-Sydney College. His research is focused on linear algebra and functional analysis, but he is also interested in many other areas of mathematics and its applications. He lives in the Richmond area with his wife, two kids, and two cats. He has been eating cereal for near forty years, and he has been thinking about the number e for a long time too.
---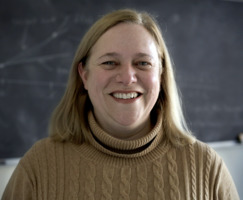 Jennifer Beineke
Western New England University
Saturday Morning Address: Splendor in the Graphs
Abstract: Graph theory can provide an entertaining analysis of certain games and puzzles. Using elementary results, we will explore brainteasers such as Dots-and-Boxes, Brdig-It, Paradoxical Pennies, and Clever Convicts. That should be preparation enough to set us off on a mathematical sort of safari.
Biographical Sketch: Jennifer Beineke is a professor of mathematics at Western New England University, in Springfield, MA. She earned her Ph.D. from UCLA under the supervision of Don Blasius. She has held a visiting position at Trinity College in Hartford, CT, where she received the Arthur H. Hughes Award for Outstanding Teaching Achievement, and she was honored to have been one of the Christie Lecturers for the Northeastern Section of the MAA. With Jason Rosenhouse, she is the coeditor of the Mathematics of Various Entertaining Subjects series, published jointly by Princeton University Press and the Museum of Mathematics. This summer, she will be taking a group of students to London to learn about cryptography.
---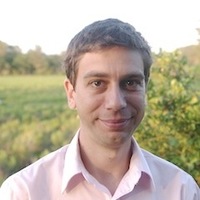 Brant Jones
James Madison University
Saturday Afternoon Address: Seeing the (Game) Trees for the Forest
Abstract: Imagine taking your favorite game and trying to encode it as a combinatorial graph of moves (=edges) between positions (=vertices), by playing through the game in all possible ways. Depending on your point of view, this structure probably seems either extremely specific (e.g. after 18 years, in 2007, more than 50 computers working together succeeded in solving the game tree for Checkers) or else so abstract as to be almost useless (e.g. one can easily prove that there is a winning strategy for the first player in the game of Hex, but no one knows how to describe it). We will survey a few game trees that are planted in the middle ground, with fascinating patterns that invite exploration and proof (often with undergraduates).
Biographical Sketch: Brant Jones is an associate professor of mathematics at James Madison University, where he also coordinates the William Lowell Putnam Competition team and the summer Research Experience for Undergraduates (REU). In addition to games, he is interested in algebraic structures and enumerative combinatorics. This summer, he is leading an REUF workshop for faculty at the Institute for Computational and Experimental Research in Mathematics (ICERM).