Welcome to the Rocky Mountain Section of the MAA
---
---
news from institutions
throughout the Section, announcements of the upcoming
NExT-RM
and
Section
meetings, a report from the
Nominating Committee
, a
calendar
of future events, and much more, in the
Spring 2018 Newsletter
.
Thanks to Linda Sundbye for putting this together.
---
---
101st Annual Rocky Mountain Section Meeting
University of Northern Colorado
April 13 – 14, 2018

---
---
Another Haimo winner in the Rocky Mountain Section !
Each year the MAA recognizes college or university mathematics teachers who demonstrate extraordinary success in teaching effectiveness, even beyond their own institutions. The Deborah and Franklin Tepper Haimo Award was presented to UNC Mathematics Professor Hortensia Soto-Johnson at the Joint Mathematics Meetings in San Diego, CA, on January 11, 2018.
Some excerpts from Dr. Soto's citation:
Dr. Hortensia Soto of the University of Northern Colorado is recognized for her extraordinary success in educating learners at every level ...
Dr. Soto designs activities that are research based and implements them using many teaching strategies that allow her to work with the full spectrum of learners ... she has a particular interest in exploring the role that geometric visualization can play in the development of understanding of advanced mathematics ...
Dr. Soto conducts research exploring student learning through "embodied cognition" activities, developing the mind and thinking through human body experiences. For example, geometry students became points on the Cartesian coordinate plane, creating lines using ropes ...
Dr. Soto's influence is further extended through Las Chicas de Mathemáticas, ... a residential camp for 32 young women grades 9 through 12 that introduces them to college level math, college life, STEM related careers, and other women who are passionate about mathematics. She co-founded and directs this program ...
Follow this
link
for a complete copy of citations for all awards at the 2018 JMM. Dr. Soto's citation begins on page 59.
---
---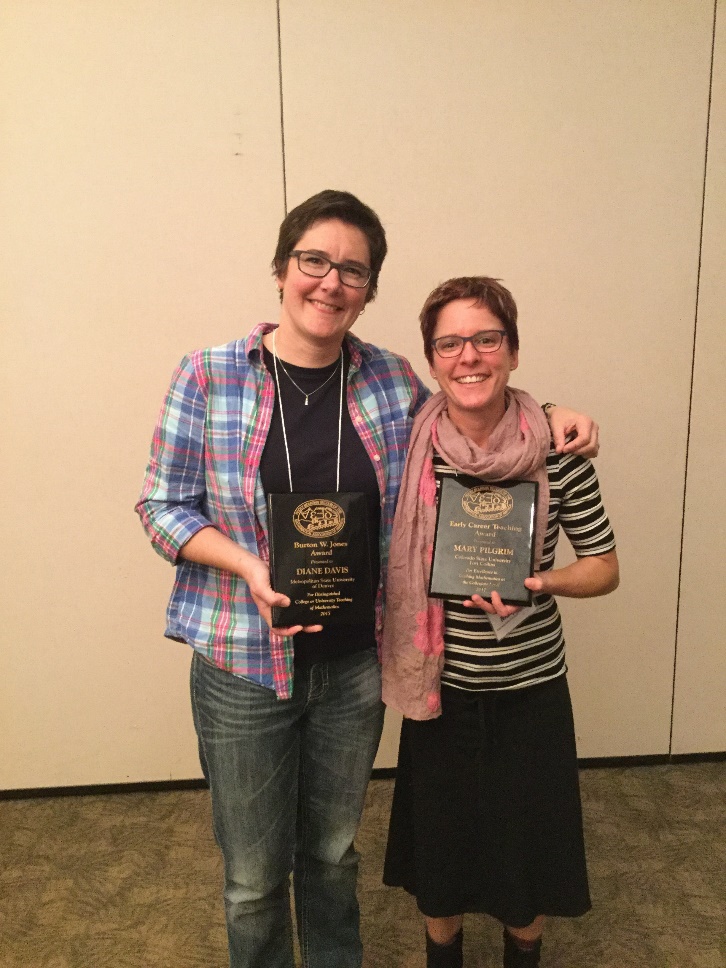 Congratulations to Diane Davis, MSU-Denver, winner of the 2017 Distingushed Teaching Award, and to Mary Pilgrim, CSU, winner of the 2017 Early Career Teaching Award.
---
Rocky Mountain Section History, Live on the Website
You are invited to check out the collection of Historical Materials on the section website. Materials include Meeting Reports from (almost) all meetings between 1917 and 1998, narrative summaries by David Ballew, and another narrative, with emphasis on Colorado College, by Bill Ramaley.
This is still a work in progress! Those with time, energy, and interest are invited to study these materials and contribute to understanding the history of our section.
---
---
Other Information