Welcome to the Rocky Mountain Section of the MAA
---
Fall 2017 Newsletter available
Read the latest news from institutions throughout the Section, reports on the 100th Anniversary Section Meeting, newest award winners, and much more, in the Fall 2017 Newsletter
---
---
Spring 2017 Newsletter available
---
---
Letter from the Section Chair
Greetings,
I thought I would briefly introduce myself as the new Rocky Mountain Mathematical Association of America Section Chair. I have been a mathematics faculty member and (a mostly willing) administrator for the last 36 years, the last fourteen at the University of Colorado Denver, who has always enjoyed the information and activities offered by the MAA (since being provided a student membership in 1978). I completed a two year rotation at the National Science Foundation (2012-2014) during which time I had an opportunity to visit the MAA National Office and attend several talks at the Carriage House. This also afforded me the chance to work closely with the MAA staff on key projects pertaining to undergraduate mathematics education.
I'd like to encourage you to use this "slow" time of the year to consider looking into and finding out more about several section activities, awards and opportunities that you or some of your fellow departmental colleagues might want to take advantage of… Take stock of your department colleagues, and nominate them for one of the sections' teaching awards:
The section offers two teaching awards:
Also, the section offers a small grant program in order to assist Section members a chance to attain funds for projects in support of Section Mission: Section Activities Grants Program DesignObjective
Finally, for additional information about the section, our meetings, programs and the other items visit the Rocky Mountain MAA Section Website.
Mike Jacobson
---
Haimo award winner in the Rocky Mountain Section!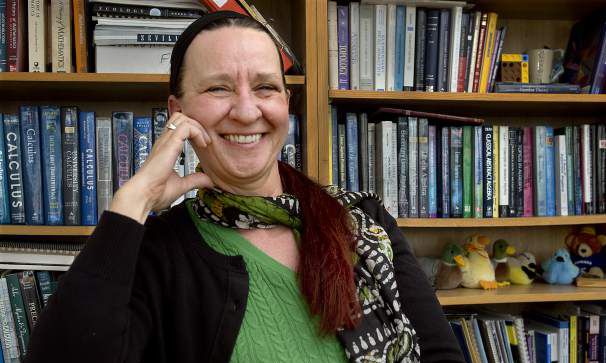 CSU-Pueblo Mathematics Professor Janet Heine Barnett will receive the 2017 Deborah and Franklin Tepper Haimo Award for Distinguished College or University Teaching of Mathematics by the Mathematical Association of America at the Joint Mathematics Meetings Prize Session, scheduled for Thursday, January 5, 2017, 4:25 pm, in Atlanta, GA.
Some excerpts from Dr. Barnett's citation:
"Janet Heine Barnett is recognized for her outstanding successes in the undergraduate classroom, for her important scholarly and curricular work in the history of mathematics, and for her substantial impact on secondary mathematics education in her native southeastern Colorado. She is known on the Colorado State University-Pueblo campus as a challenging and demanding professor whose classes are in great demand and appreciated by her students. Through her interest in the history of mathematics, Janet has become an international leader in efforts to teach mathematics using primary historical sources …

Additionally, Janet has taken the lead in improving the educational outlook of the residents of southeastern Colorado …

The MAA recognizes the great positive impact of Janet Heine Barnett on mathematics students and teachers at her own institution, in her region, and across the country, and is honored to present her with the Deborah and Franklin Tepper Haimo Award for Distinguished College or University Teaching of Mathematics."
Register for the 2017 Joint Mathematics Meetings if you would like to attend and congratulate Janet in person!


---
---
---
Fall 2016 Newsletter Now Available
The
Fall 2016 Newsletter
is now available in
HTML
and
PDF
format. Check out the latest news about
member institutions
,
upcoming meetings
, a report on the
2016 Section Meeting
, and more.
---
Rocky Mountain Section History, Live on the Website
You are invited to check out the collection of Historical Materials on the section website. Materials include Meeting Reports from (almost) all meetings between 1917 and 1998, narrative summaries by David Ballew, and another narrative, with emphasis on Colorado College, by Bill Ramaley.
This is still a work in progress! Those with time, energy, and interest are invited to study these materials and contribute to understanding the history of our section.
---
---
Other Information