Welcome to the Rocky Mountain Section Website
---
---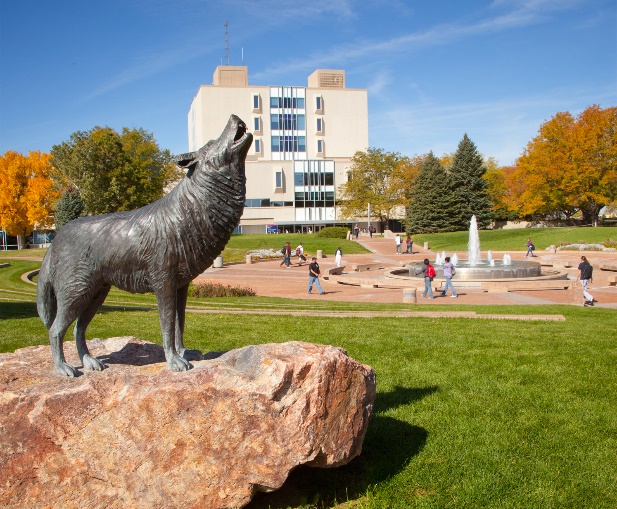 Plan now to the Section's 100
th
anniversary meeting
April 21–22, 2017
, at Colorado State University, Pueblo.
Mark your calendar now for the festivities to take place in Pueblo as the Rocky Mountain Section celebrates its founding in 1917! The 100th Anniversary meeting will be held April 21–22, 2017, and promises two days of engaging speakers, student activities, book sales, and more.
Plenary Speakers for the meeting will include:
The weekend's agenda will once more include a Friday Pre-Conference Workshop, a Friday evening banquet to be held at Pueblo Community College. Other tentative happenings include a return of Student Jeopardy!, door prizes from generous vendors, and special networking opportunities.
On-line registration and other information will be available via the meeting website later this fall. In the meantime, please send your suggestions for special sessions or panel themes, workshop topics or presenters, and other party ideas to Janet Barnett.
---
Letter from the Section Chair
Greetings,
I thought I would briefly introduce myself as the new Rocky Mountain Mathematical Association of America Section Chair. I have been a mathematics faculty member and (a mostly willing) administrator for the last 36 years, the last fourteen at the University of Colorado Denver, who has always enjoyed the information and activities offered by the MAA (since being provided a student membership in 1978). I completed a two year rotation at the National Science Foundation (2012-2014) during which time I had an opportunity to visit the MAA National Office and attend several talks at the Carriage House. This also afforded me the chance to work closely with the MAA staff on key projects pertaining to undergraduate mathematics education.
I'd like to encourage you to use this "slow" time of the year to consider looking into and finding out more about several section activities, awards and opportunities that you or some of your fellow departmental colleagues might want to take advantage of… Take stock of your department colleagues, and nominate them for one of the sections' teaching awards:
The section offers two teaching awards:
Also, the section offers a small grant program in order to assist Section members a chance to attain funds for projects in support of Section Mission: Section Activities Grants Program DesignObjective
Finally, for additional information about the section, our meetings, programs and the other items visit the Rocky Mountain MAA Section Website.
Mike Jacobson
---
---
Spring 2016 Section Meeting &nbsp April 8–9, 2016
Thanks to the
Tracii Friedman
and the organizing committee (names below) at Colorado Mesa University for hosting a well-attended and informative joint meeting of the Rocky Mountain and Intermountain Sections, April 8–9. More than 175 persons registered, including at least 122 from Rocky Mountain, and 48 from Intermountain. Approximately 40% of the registrants were students, and 60% faculty. More than 90 contributed talks, including 20 student talks, were presented.
---
Special thanks are due to the following:
| | |
| --- | --- |
| Organizing committee: | Tracii Friedman, Shawn Robinson, Cathy Bonan-Hamada, Ed Hamada, Lisa Driskell, and Danae Romrell (Intermountain) |
| Online Abstract Submission: | Eric Miles |
| Jeopardy organizers: | Emma Schafer and Kathy Andrist |
| Student Activities: | Beth Schaubroeck |
| Book Exhibit Coordinator: | Janet Heine Barnett |
| Day of Event Helpers: | Ed Hamada (general assistance and shuttle driver), Karl Castleton (tech), Darren Gemoets and Rick Ott (shuttle drivers and social event organizers) |
---
We heard four plenary talks:
History as Travel Guide and Companion: Mathematical Itineraries to Excite, Educate and Entertain
Janet Heine Barnett, Professor of Mathematics,Colorado State University, Pueblo, 2015 Burton W. Jones Distinguished Teaching Award Winner
The Fractal Geometry of the Mandelbrot Set
Robert L. Devaney, Professor of Mathematics, Boston University Immediate Past-President of the Mathematical Association of America
The History of Mathematics in 300 Stamps
Robin Wilson, Emeritus Professor of Pure Mathematics, Open University, Visiting Professor at Colorado College
Math, DNA, and Precision Medicine
Robert Palais, Associate Professor of Mathematics, Utah Valley University, Research Professor, Pathology at University of Utah
---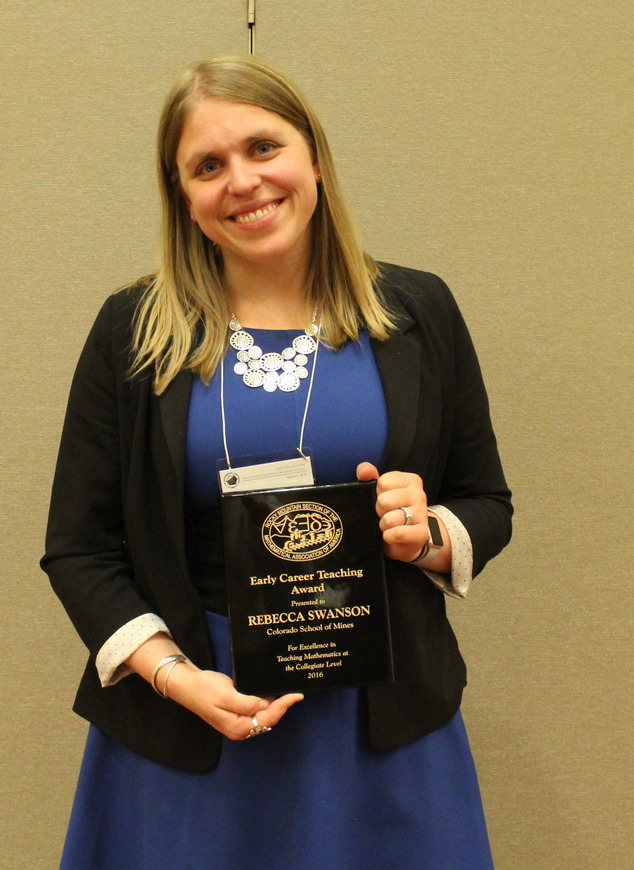 Congratulations to Rebecca Swanson, Colorado School of Mines, the very first recipient of the Section's new Early Career Teaching Award.
Congratulations to Hortensia Soto-Johnson , the twenty-fifth recipient of the Burton W. Jones Distinguished Teaching Award.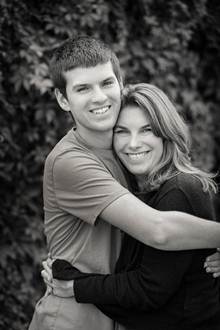 ---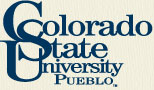 Plan now to the Section's 100th anniversary meeting April 21–22, 2017, at Colorado State University, Pueblo.
---
---
New for 2016: Early Career Teaching Award
The Section has established a new award to recognize outstanding performance by members early in their careers. Visit
here
for complete details and a nomination form.
---
Spring 2016 Newsletter Now Available
The Spring 2016 Newsletter is now available in
HTML
and
PDF
form. Check out the latest news about
member institutions
,
upcoming meetings
, a new
Chair's Report
and
Governor's Report
, a
report
on the 2015 member survey, and more.
---
Rocky Mountain Section History, Live on the Website
You are invited to check out the collection of Historical Materials on the section website. Materials include Meeting Reports from (almost) all meetings between 1917 and 1998, narrative summaries by David Ballew, and another narrative, with emphasis on Colorado College, by Bill Ramaley.
This is still a work in progress! Those with time, energy, and interest are invited to study these materials and contribute to understanding the history of our section.
---
---
Other Information