Mathematical Association of America
Southwestern Section
<![if !vml]>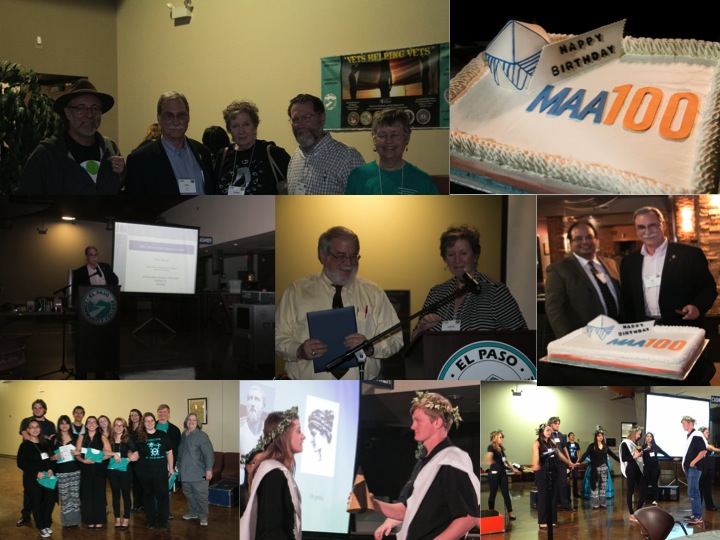 <![endif]>
Upcoming events...
MAA Southwestern Section Spring Meeting
April 8-9, Coconino Community College in Flagstaff Arizona
Joint meeting with NMMATYC
More information including registration and housing is on the conference web site.
MathFest
August 3 - 6, Columbus, Ohio
More information is on the MathFest home page.
Joint Mathematics Meetings
January 4–7, 2017, Atlanta, Georgia
More information will be on the Joint Mathematics Meetings home page.
Other happenings...
Section T-shirt Design Contest
Each Section is being asked to design a Centennial t-shirt, and we plan a design contest in the Southwestern Section. Read about the contest.
Member news
Robert Wisner is recuperating after a fall, surgery, and lung challenges. After several months in the hospital, he now enjoys cards and messages during this stay in rehab. The address is Aristocrat #19, 2969 Claude Dove Drive, Las Cruces, NM 88011. (10 February 2015)
Chuck Straley is recuperating after a stroke. Cards can be sent in care of Chip Straley, 1213 W. 2nd St., Yuma, AZ 85364. (10 February 2015)
The Mathematical Association of America (MAA) is the largest professional society that focuses on mathematics accessible at the undergraduate level. The Southwestern Section of the MAA comprises those members and institutions in Arizona, New Mexico, and the El Paso, Texas area.