Mathematics Association of America
Southern California-Nevada Section
The Newsletter for Spring 2010 is only available in PDF format.
The MAA maintains a Flickr site with
photos from MathFest 2010
. Here are some featuring Ami Radunskaya of Pamona College, who gave the Falconer lecture on her work modeling the growth of cancer cells.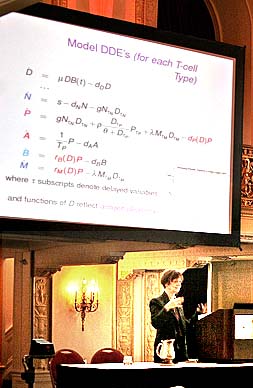 MAA Invited Speaker Ami Radunskaya (Pomona College) with President of the Association for Women in Mathematics (AWM) Georgia Benkart and AWM At-Large Member of the Executive Committee Sylvia Bozeman (Spelman) at MathFest 2010 in Pittsburgh. Radunskaya presented "Mathematical challenges in the treatment of cancer", the AWM-MAA Etta Z. Falconer Lecture at MathFest 2010.
Do you have pictures from Mathfest that you want to share? Add them to MAA's MathFest 2010 flickr site, and if they involve members of the Southern California-Nevada Section, please email Florence at fnewberg@csulb.edu.
Save these dates for future national MAA meetings
| | | |
| --- | --- | --- |
| Winter 2011 | New Orleans, LA | January 6-9 |
| Summer 2011 | Lexington, KY | August 4-6 |
| Winter 2012 | Boston, MA | January 4-7 |
| Summer 2012 | Madison, WI | August 2-4 |
| Winter 2013 | San Diego, CA | January 9-12 |
| Winter 2014 | Baltimore, MD | January 15-18 |
| Winter 2015 | San Antonio, TX | January 9-12 |
| Summer 2015 | Washington, DC | August 5-8 |
| Winter 2016 | Seatle, WA | January 6-9 |
| Winter 2017 | Atlanta, GA | January 4-7 |