Mathematics Association of America
Southern California-Nevada Section
Newsletter Fall 2009
Table of Contents
Message from the Chair:
Come join us for invited addresses on the Monty Hall Problem, hyperbolic space, and the mathematics of swarming!
Art Benjamin, Section Chair, Harvey Mudd College
Fall 2009 Meeting
You may ask, who has the time to come to a math meeting? For many of us, the school year has just begun and we are busily preparing and teaching classes. Or we are working on an interesting mathematical problem and we are trying to find the time to write up the results. So why should you go to a section meeting? Let me list a few reasons. It's an opportunity to: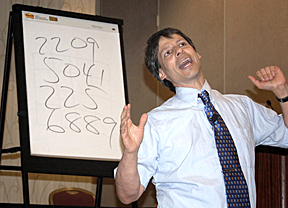 Section Chair Art Benjamin presents the MAA Student Lecture "Secrets of Mental Math" at MathFest in Portland, OR, in August of 2009
Hear great talks


Give a contributed talk


Make new friends


Renew collaborations


Discover new ideas


Hear what's happening at other schools in our region


Buy new and discounted books at the MAA book table
Our program committee has lined up some exciting speakers for the Fall Meeting. Andrea Bertozzi (UCLA) will speak about the mathematical biology of swarming. Jason Rosenhouse (James Madison University) is flying across the country to tell us about the Monty Hall Problem, its variations and applications. Curtis Bennett (Loyola Marymount U), our section's Distinguished Teaching Award winner, will show us a simple model for hyperbolic space. In addition, we expect lots of interesting contributed talks (perhaps given by you?), and Janet Beery (U of Redlands) and Bruce Yoshiwara (Pierce College) will hold a workshop on using the digital library resources of MathDL. More...
If you haven't come to a math meeting yet, the Fall Meeting is the time to do it. The food is good, and the talks and camaraderie are even better. And if you don't know anyone, just introduce yourself. It's a very friendly group. I look forward to "meeting" you there!
MAA MathFest in Portland, OR
And speaking of meetings, the MAA MathFest in Portland was a whole lot of fun. There were great talks, minicourses, exhibitors, and I enjoyed seeing lots of old friends. One of the highlights was the MAA Invited Address "Cryptography: How to Keep a Secret" by our own Alice Silverberg of UC Irvine, introduced by Ron Graham
 of UC San Diego. (Thanks to MAA FOCUS Editor Fernando Gouvea for his photos of MathFest.)
Future Meetings
Mark your calendars for the Spring Meeting, to be held at Harvey Mudd College on April 10, 2010. We have another great lineup of speakers planned for that event. And the annual Joint Meetings of MAA and AMS will be held in San Francisco January 13-16, 2010. With an expected attendance of 6000 math enthusiasts so close to us, how can you resist?
Message from the Governor: News and highlights from Mathfest
Ken Millett, Section Govenor, UC Santa Barbara
The 2009 MathFest in Portland, Oregon was the largest, attracting more than 1,500 attending. High lights and photos are reported in the October/Novermber 2009 Focus available at http://www.maa.org/pubs/focus.html. For me, the highlights were the wonderful series of lectures given by Ravi Vakil (Stanford) and Joan Ferrini-Mundy as well as the sessions and poster sessions. While this is my last year as your Governor (my term ends with the January 2010 meeting), I have agreed to chair the MAA's Committee on the Mathematical Education of Teachers (COMET) through 2012.
For me, one of the most exciting news of MathFest is that The Board of Governors approved the creation of an all-electronic membership beginning in January 2010 providing members access to MAA publications without having to receive their print versions. This option will move the MAA to a greener operation and will eliminate the burden that many of us face in handling the print versions. These will, however, continue to be available to members who desire them. More information can be found at http://www.maa.org/pubs/octnov09pg3.pdf.
I would like call your attention to the MAA Congressional Briefing on September 22, 2009 will stress the importance of diversity in undergraduate opportunities in mathematics. Speakers are MAA President David Bressoud (Macalester College), Sylvia Bozeman (Spelman College) and Carlos Castillo-Chavez (Arizona State University) for this congressional briefing organized by Ruben Hinojosa (D-TX) and the MAA. More information can be found at http://www.maa.org/news/091009congress.html.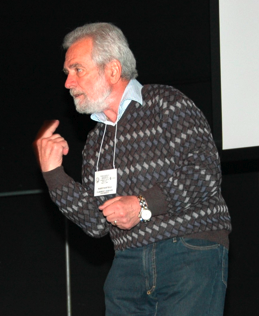 Mario Martelli explains "Chaos in the Solar System." Photo by Ernie Solheid, CSU Fullerton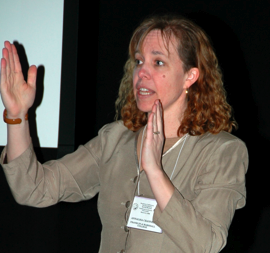 Annalisa Crannell delivers "Math and Art: The Good, the Bad, and the Pretty." Photo by Ernie Solheid, CSU Fullerton
Spring 2009 Meeting Featured a Salute to Mario Martelli
If we could use just one word to describe the Spring Meeting of the MAA Southern California-Nevada Section March 21, 2009, at California Lutheran University, it would be mARTelli.
The meeting featured a presentation by internationally renowned origami artist and mathematician Robert Lang; talks by our own Mario Martelli and by his former student, Annalisa Crannell, on the geometry of art; a student poster session, an event long championed by Martelli at both local and national meetings; and a tribute to Martelli for his excellent and exemplary service to the MAA Southern California-Nevada Section, the national MAA, and the three Southern California institutions he has served during his career, Cal State Fullerton, Claremont-McKenna College, and Claremont Graduate University. Section Governor Ken Millett "unveiled" onscreen the brick the section has dedicated to Martelli in the MAA Carriage House River of Bricks in Washington, DC, and meeting participants donned red, green, and white "Italians make better professors, eh?" T-shirts.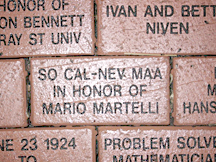 Next time you are in Washington, DC, be sure to visit the River of Bricks at the MAA Carriage House! Photo by Michael Frantz, University of La Verne
Curtis Bennett of LMU Wins Section Teaching Award
Art Benjamin, Section Chair and Chair of Distinguished Teaching Award Committee, Harvey Mudd College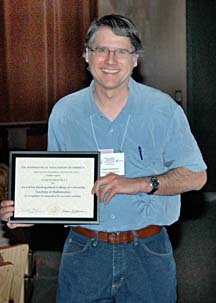 The Southern California-Nevada Section of the MAA is pleased to announce that Professor Curtis Bennett of Loyola Marymount University has received its 2009 Distinguished Teaching Award. Dr. Bennett's students describe him as energetic and enthusiastic, passionate, selfless, sincere, and patient. They often credit him not just for increased mathematical skills, but also for increased self-confidence.
Dr. Bennett's reputation as an excellent teacher extends well beyond the boundaries of LMU. He has gained national and international prominence as a two-time Carnegie Scholar, has led two PMET Workshops (Preparing Mathematicians to Educate Teachers), and has presented the mini-course, A Beginners Guide to the Scholarship of Teaching and Learning, at the Joint Mathematics Meetings in 2006, 2007, and 2008.
Dr. Bennett received his PhD in Mathematics from the University of Chicago in 1990 in the area of groups and geometries. Since then he has held positions at Michigan State University, The Ohio State University, and Bowling Green State University, and he is currently Professor and Chair of the Mathematics Department at Loyola Marymount University in Los Angeles. He has published over 30 articles in mathematics and in the scholarship of teaching and learning mathematics. Dr. Bennett was the co-editor of the book Starting Our Careers with Annalisa Crannell and was a founding editor of the Young Mathematicians Network.
Bennett will receive the prestigious Franklin and Deborah Tepper Haimo Award for Distinguished College or University Teaching, awarded to three MAA members each year, at the Joint Mathematics Meetings in San Francisco in January of 2010.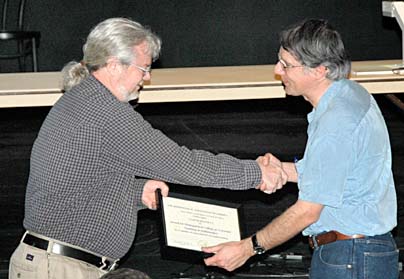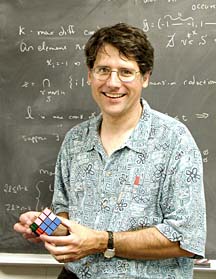 Call for Nominations for 2010 Section Teaching Award
by Shawn McMurran, Section Secretary, Cal State San Bernardino
Preliminary nominations for the 18th annual MAA Southern California-Nevada Section Award for Distinguished College or University Teaching of Mathematics are now being accepted. The initial nomination consists of a one-page form and a 1-2 page description of the candidate's qualities and teaching successes. From the initial nominees, the selection committee will choose two to three semi-finalists. Each nominator will then be asked to complete a full nomination for the semi-finalist. Upon receipt of the full nomination, semi-finalists will automatically become finalists. Each finalist will receive an official letter of commendation from the Chair of the Section, which will be copied to the candidate's department chair and dean. The selection committee will choose the winner from the pool of finalists. Finalists who are not selected will automatically have their full applications considered the following year for the Section award.
The winner of the award will be recognized at the Spring 2010 Meeting of the MAA Southern California-Nevada Section. The awardee will also be the official Section nominee for the MAA Deborah and Franklin Tepper Haimo Award for Distinguished College or University Teaching of Mathematics. Successful nominees are individuals who are widely recognized for their extraordinarily successful teaching effectiveness and for teaching that has had influence beyond their own institutions.
To be eligible, nominees must
be current MAA members,
teach mathematical science courses at least half-time during the academic year, and
have at least seven years experience teaching at the college or university level.
If you have an eligible and qualified colleague in your department, we urge you to nominate her/him so that s/he may be considered for the award.
Initial application deadline is Wednesday, November 4, 2009. Questions? Contact Shawn McMurran at smcmurra@csusb.edu.