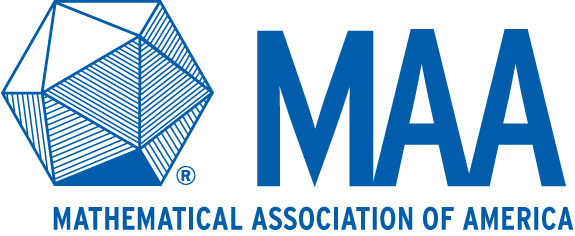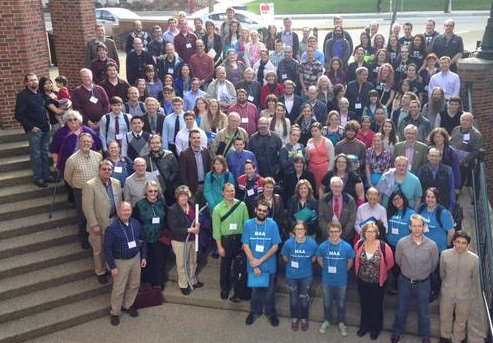 Mathematical Association of America
Allegheny Mountain Section
Serving Western Pennsylvania and West Virginia


Spring 2018 Meeting
April 6-7, 2018
Penn State Behrend
Erie, PA
---
---
Local Organizer
Papiya Bhattacharjee
Email: pxb39@psu.edu

Phone: &nbsp (814) 898-6308
Meeting Information
Student Talk Schedule and Abstracts of Student Talks (Friday)
Faculty Talk Schedule and Abstracts of Faculty Talks (Saturday)
Invited Speakers
Ken Ono, Emory University
Friday, April 6th at 4:00pm
Talk Title: Why does Ramanujan, "The Man Who Knew Infinity", matter?
Abstract: Ramanujan's work has has a truly transformative effect on modern mathematics, and continues to do so as we understand further lines from his letters and notebooks. In this lecture, some of the studies of Ramanujan that are most accessible to the general public will be presented and how Ramanujan's findings fundamentally changed modern mathematics, and also influenced the lecturer's work, will be discussed. The speaker is an Associate Producer of the film The Man Who Knew Infinity (starring Dev Patel and Jeremy Irons) about Ramanujan. He will share several clips from the film in the lecture.





&nbsp&nbsp&nbsp&nbsp&nbsp
Annalisa Crannell,

Franklin & Marshall


Saturday, April 7th at 9:00am
Talk Title: Drawing conclusions from drawing a square
Abstract: Those of us who teach projective geometry often nod to perspective art as the spark from which projective geometry caught fire and grew. This talk looks directly at projective geometry as a tool to illuminate the workings of perspective artists. One of the surprising results of using this tool is that it implies that every quadrangle (whether convex or not) is the perspective image of a square. We will describe implications of this result for computer vision, for photogrammetry, for applications of piece-wise planar cones, and of course for perspective art and projective geometry.




Michael Dorff,

Brigham Young University


Saturday, April 7th at 11:45am
Talk Title: How mathematics is making Hollywood movies better.
Abstract: What's your favorite movie? Star Wars? Avatar? The Avengers? Frozen? What do these and all the highest earning Hollywood movies since 2000 have in common? Mathematics! You probably didn't think about it while watching these movies, but math was used to help make them. In this presentation, we will discuss how math is being used to create better and more realistic movies. Along the way we will discuss some specific movies and the mathematics behind them. We will include examples from Disney's 2013 movie Frozen (how to use math to create realistic looking snow) to Pixar's 2004 movie The Incredibles (how to use math to make an animated character move faster). Come and join us and get a better appreciation of mathematics and movies.



Registration and Payment
**Online registration is now closed, but you can still register the day of the Section Meeting on site. Just be aware that when registering on site, we cannot guarantee that you will be able to buy Friday's dinner or Saturday's breakfast (it will be dependent upon the extra meals ordered).

Payment: Checks should be made payable to "Allegheny Mountain Section, MAA" and sent to:

Duane Farnsworth
Mathematics Department
Clarion University
840 Wood Street
Clarion, PA 16214

Hotel Information
Parking
Conference participants need to print out a parking permit prior to attending the conference and display it on their dashboard when parked, where it can be seen. Permits can be obtained by clicking here.

Campus Map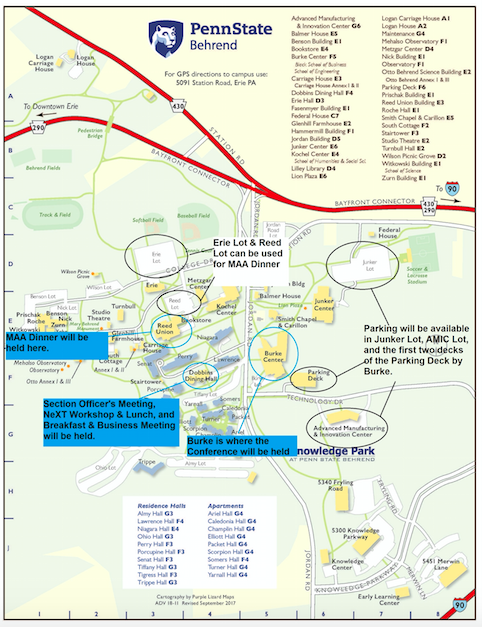 **Click on the map for a larger, printer-friendly version.
Visitor Information for Erie, PA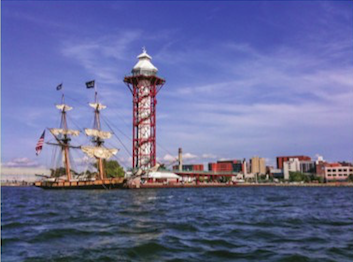 **Click on the image for visitor's information for the area.
---
---
Allegheny Mountain Section of the MAA