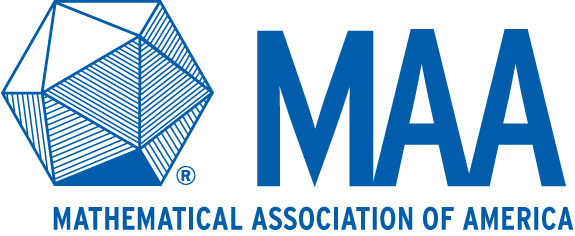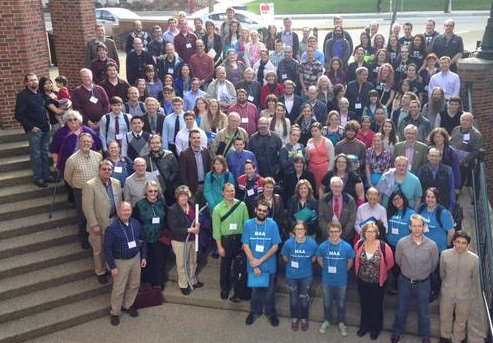 Mathematical Association of America
Allegheny Mountain Section
Serving Western Pennsylvania and West Virginia


Spring 2017 Meeting
April 7-8, 2017
Duquesne University
Pittsburgh, PA
---
---
Local Organizer
Meeting Information
Student Talk Schedule and Abstracts of Student Talks (Friday)
Career Panel for Students (Saturday)
Faculty Talk Schedule and Abstracts of Faculty Talks (Saturday)
Invited Speakers
Jennifer Quinn,

University of Washington


Friday, April 7th at 4:00pm
Talk Title: Epic Math Battles: Counting vs. Matching
Abstract: Which technique is mathematically superior? The audience will judge of this tongue-in-cheek combinatorial competition between the mathematical techniques of counting and matching. Be prepared to explore positive and alternating sums involving binomial coefficients, Fibonacci numbers, and other beautiful combinatorial quantities. How are the terms in each sum concretely interpreted? What is being counted? What is being matched? Which is superior? You decide.




Dan Fox, Pittsburgh Pirates
Saturday, April 8th at 9:00am
Talk Title: The Math Says Yes: Analytics and Organizational Change in Major League Baseball
Abstract: Major League Baseball is an institution with a long and storied tradition. In this talk we'll explore what happened in one organization when analytics met tradition. We will also talk about the implementation of analytics at all levels of the operation and provide some examples of how the math is being used to inform the decision making process.




Robert Devaney,

Boston University


Saturday, April 8th at 11:45am
Talk Title: The Fractal Geometry of the Mandelbrot Set
Abstract: In this lecture we describe several folk theorems concerning the Mandelbrot set. While this set is extremely complicated from a geometric point of view, we will show that, as long as you know how to add and how to count, you can understand this geometry completely. We will encounter many famous mathematical objects in the Mandelbrot set, like the Farey tree and the Fibonacci sequence. And we will find many soon-to-be-famous objects as well, like the "Devaney" sequence. There might even be a joke or two in the talk.




Section NExT Workshop: "Exposition is the way (to write for the MAA)" by Jennifer Quinn
Contact: Kim Roth or Erin Bancroft
Time: Occurs right before the conference on Friday
Abstract: The MAA is the premier publisher of expository mathematics with three journals, two magazines, and an online history journal. This workshop will introduce participants to MAA's publications, their submission guidelines, and include a critical examination of exemplary manuscripts.



Registration
**Online registration is now closed, but you can still register the day of the Section Meeting on site. Just be aware that when registering on site, we cannot guarantee that you will be able to buy Friday's dinner or Saturday's breakfast (it will be dependent upon the extra meals ordered).
Hotel Information
Driving Directions
The address for Duquesne University is 600 Forbes Ave, Pittsburgh, PA 15282. If you click here, there is an option at the bottom of the page to get custom directions from your location.

Parking
Parking is going to be harder than at past meetings due to the location ... it will also be more expensive. Please make sure to allow extra time for parking, and be aware that the parking rates are higher. There is a garage at Duquesne, and you can click here for more information. There is also a Duquesne University parking map that is available if you click here. There is also more parking around Pittsburgh, but be aware that there are some events going on in town, which may mean that parking rates will be higher than normal (the Duquesne Parking rate might be $20). Other parking options are the Chatham Center and Mercy Hospital.

Campus Map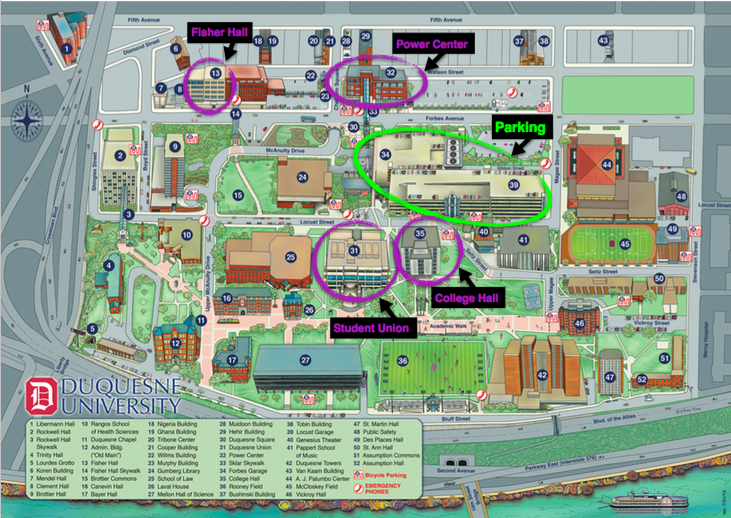 **Click on the map for a larger, printer-friendly version.
---
---
Allegheny Mountain Section of the MAA