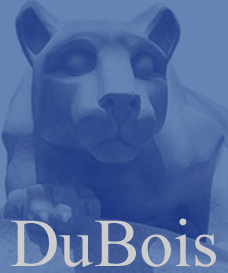 Spring 2003 Sectional Meeting of the
Allegheny Mountain Section of the
Mathematical Association of America
Serving Western Pennsylvania and West Virginia
---
The spring meeting of the Allegheny Mountain Section of the Mathematical Association of America will take place April 4-5 at the DuBois campus of the Pennsylvania State University, located in DuBois, PA. The local coordinating committee consists of the entire Mathematics Department of the campus. These are, in alphabetical order, Bud Boman, Rick Brazier and Heather Parizek. (What can I say? We're a small campus.) If you have questions about the campus or the meeting arrangements please contact us via the link above or the following:
Bud Boman
(814) 375-4834
ecb5@psu.edu
Rick Brazier
(814) 375-4806
rab27@psu.edu
Heather Parizek
(814) 375-4812
hlh105@psu.edu
---
Campus Information
Parking Information
We will be handing out parking passes at the registration table when you arrive. These will allow you to park in any of the campus parking areas marked in yellow or gray.

On Friday afternoon some classes will still be in session so parking may be a little tight. Your best bet will probably be in the lot across Rt. 255 from campus, on N. Park Place, next to the Best Western. This lot is owned by the University and you are welcome to park in it.

Later, on Friday evening and Saturday morning there is unlikely to be a problem getting a spot. Warning: Do not park on any of the streets around the campus. The city of DuBois will issue a ticket to the tune of $50.

Technology Available for Speakers
In addition to regular (un-wired) classrooms we have two rooms that are equipped with a Windows based computer at the podium, a projector and Internet access. However we are very much a Microsoft shop. If you want to bring your own laptop and use it for your presentation, that will probably work as long as you are running some version of Windows newer than Windows '95. However, in that case it would probably be easier to dump your files onto a Zip disk and just bring that. If you decide to do that and there is time it would be best to send the disk to us in advance. We will test it to make sure our systems do something sensible with it.

If you use any other operating system (eg. Mac or Unix) it is extremely unlikely that our systems or staff will be able to accomodate you.
---
Meeting Information
---
Local Accommodations
We have reserved blocks of 20 rooms at each of the following hotels. Mention Penn State DuBois to get the conference rates. Tax is not included in any of the prices quoted below.
Best Western (814) 371-6200; single $48 plus tax, double $54 plus tax; across Route 255 and some train tracks from the campus; these will be held until 2 weeks prior to the event. (The pizza party on Friday night will be in the conference center adjacent to the Best Western.)


Hampton Inn (814) 375-1000; at the DuBois Mall; $69 plus tax; these will be held until 10 days prior to the event.


Ramada Inn (814) 371-7070; past the mall on Route 255 toward I-80, exit 101; $59 plus tax; these will be held until the day of the event.


Holiday Inn (814) 371-5100; on Route 219 toward I-80, exit 96; $69 plus tax; these will be held until 3 weeks prior to the event.
There are other hotels and motels in the area but these are the ones we recommend. If you would like information on other accomodations please contact us.